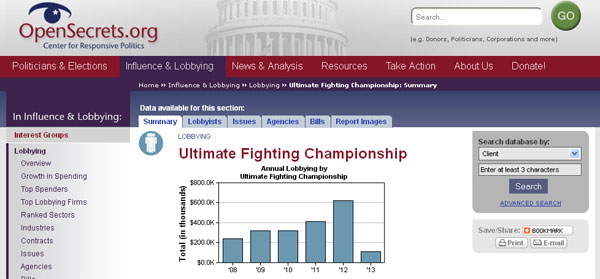 According to a survey of North American website OpenSecrets.org, the UFC was the second sports league in the United States that have had more spending on lobbying in 2012. The report demonstrates that the MMA organization spent $ 620,000, nearly five times the amount invested by the NBA - the main basketball competition in the world.
According to co-director of operations of the UFC, Lawrence Epstein, a number of companies represented in the league operations. The amount spent concientizar served to politicians about the importance of martial arts to the people and encourage the development of more stringent anti-piracy laws in the country.
"I think we have much work to do to defend intellectual property in the United States. We have fulfilled our part, but the politicians who are in power in Washington is taking the decisions. These pirates are generating incredible damage to companies like ours (UFC). This needs to be a crime and these people need to be prosecuted more vigorously, "he said in an interview with Lawrence MMAJunkie.
Since 2010, Zuffa - the company that owns the UFC - has fought relentlessly against the portals on the internet that transmit illegally MMA events. Altogether, the organization has reported to Congress 271 sites, however, the U.S. penal code further provides light punishments for criminals, which has frustrated the efforts of the UFC.
Check out the sports leagues spenders on lobbying in 2012:
1 - National Football League - $ 1,140,000
2 - Ultimate Fighting Championship - $ 620,000
3 - Professional Golfer's Association - $ 380,000
4 - Major League Baseball - $ 310,000
5 - Bowl Championship Series - $ 270,000
6 - Nos. Olympic Committee - $ 240,000
7 - National Collegiate Athletic Association - $ 150,000
8 - NASCAR - $ 150,000
9 - National Basketball Association - $ 125,000
10 - National Football League Player's Association - $ 120,000