Coach announces retirement from American fighter of 29 years may be revised, but we still can not say when or against whom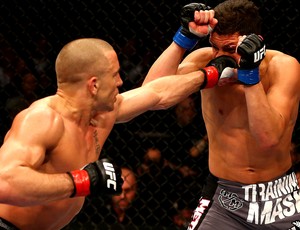 Apparently, the retirement of Nick Diaz did not last more than four months. Who raises this hypothesis is the coach himself Fighter, Cesar Gracie, told the site that the former champion BJ Penn about this possibility.
- Nick Diaz returned to Las Vegas a few days ago with a proposal on the table and that's all I can say. It's something we're all arguing with him. Dana White offered him a fight, but I can not say against whom. - Commented Gracie.
The last moments of Nick Diaz at UFC were not very good for the fighter. After the loss to Carlos Condit in February 2012 when the disputed interim belt-weights welterweight, due to injury to Georges St-Pierre, the Californian took a one-year suspension for marijuana use. The last act of Nick Diaz in the UFC was in March this year, the loss to GSP at UFC 158, when he announced his retirement. The American, 29, has 26 wins and nine losses in his career.