In response, respect. Seen in a voltage. So it can be defined the press conference's official UFC 162, held on Thursday at the MGM Grand. After showing great care in remarks to reporters, Anderson Silva and Chris Weidman, the protagonists fight main event, which will be held in the belt of middleweights, made ​​a glare tense, touching chins for a few seconds, under the eyes of Dana White.
Held at the entrance lobby of the MGM Grand hotel, the conference could not have had a more favorable climate. The Brazilian fans packed the venue and shouted "Silva!" on the first response Weidman, who asked to shout more. In the end, new show of Brazilian singing "The champ is here!" while the fighters were preparing for seen. After envisage, Anderson played with Weidman and offered to American belt.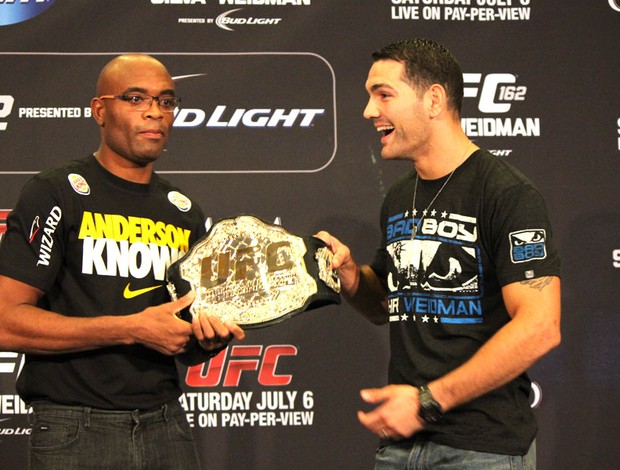 - I am very happy, this is normal healthy competition between Brazilians and Americans. We have to show that we came here with education, because today (July 4, Independence Day) is an important day for them. Let's pray that everything will work again - said the champion, in Portuguese, Brazilian addressing the present.
The champion does not polemical, and gave short answers when asked about the expectations for the fight.
- It's another normal working day - said the fighter.
Weidman was longer in his answer to the same question:
- Sonnen Anderson knocked several times, watched this fight many times (at UFC 117), but I'm not exploiting it. I will not do exactly what Sonnen did. Chris Weidman will be and try to be as devastating as possible. I think when Chael was over he was very reckless. When I am, I'll be more relaxed. This is my world. Has no reason to rush things.
Betting exchanges pointing small advantage of Anderson
The advantage of Anderson Silva only 2 to 1 on the betting exchanges was the subject of some questions, and Dana White said fighters opinion in favor of the challenger may have influenced the punters.
- This is the smallest margin of advantage that Anderson Silva has had in history, I believe that for many fighters have said they can beat Chris Weidman Anderson Doe. There are many questions about what will happen, and they will only be answered on Saturday night.
Anderson said he did not care about the opinions of athletes.
- It is normal. Everyone has an opinion. I have mine and they have theirs. Does not affect me at all, and also does not motivate me.
The U.S., meanwhile, said that the greatest pressure comes not from small favoritism champion, but of himself.
- Definitely not. I've put enough pressure on me. I want to be here and face the Anderson long ago. Put pressure on me by my family.
Asked appear to have the recipe for 28 years even though 38 years old, Anderson Silva said that age is at the head of each.
- It is a joy to be here, to do my job. Old age is on everyone's mind. When you do what you love, everything is easier.
To be compared with Pele, for its popularity in Brazil and the world champion extolled his love for what he does.
- When you do something with love, regardless of whether people think you're the best, the result is this: it can be one of many idols. I am very happy to be here to fight and do what I do with love.