Controversial fighter awaiting authorization committee for a new project in the U.S.
Apparently, the controversial and controversial Nick Diaz is not even willing to continue fighting in the Ultimate Fighting Championship. After the loss to welterweight champion Georges St. Pierre at UFC 158 last March in Montreal, the U.S. tries to get in the California State Athletic Commission for a license to create a MMA event, which would have the name War of Mixed Martial Arts.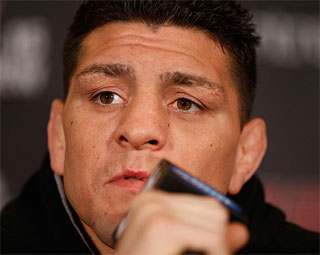 According to MMA Junkie site, Nick Diaz started the process to get a license from the California State Athletic Commission and carry out the creation of the new MMA promotion. According to one official of the institution would need to submit documents such as financial statements, resumes, and an article of incorporation for the authorization to be granted.
Nick Diaz has set up a website to publicize the event, the nickdiazpromotions.com. And register a Twitter account in the name of the organization, would be another indication that the Californian takes seriously the project of developing new MMA event in the United States.
Coached by Brazilian Cesar Gracie, California, Nick Diaz has been the welterweight champion of the former Strikeforce, but is in bad phase in the UFC. It comes from two defeats, both worth the belt and the unanimous decision. Before being beaten by Georges St. Pierre, he lost to Carlos Condit, issue 143, Las Vegas, in a duel for the interim title.
Nick Diaz has been suspended twice for doping, the first of the now defunct Pride in 2007. The second occurred after his loss to Carlos Condit for the same reason. The Californian was spotted in the test after the events with marijuana metabolites in the body.
After his loss to Georges St. Pierre, Nick Diaz left the air again, the possibility of closing the trajectory in the UFC - as occurred after the setback before Carlos Condit. However, in the post-event press conference, said that the Californian was considered a good opponent for middleweight champion Anderson Silva.
Source: Disclosure