Loudmouth tries to promote fight against "Mad dog" in Boston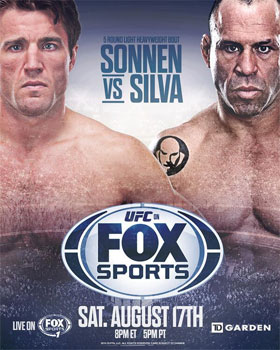 According to the renowned American journalist Dave Meltzer, host of Wrestling Observer Radio, the UFC plans to marry a clash between Wanderlei Silva and Chael Sonnen for Aug. 17 in Boston. The fight would headline the first edition of Ultimate in partnership with Fox Sports 1, which will debut in the United States on the very day of the event.
"Chael Sonnen began to cause Wanderlei Silva in order to warm the climate for a possible fight. He was instructed to do so, because the UFC wants to make this duel in Boston. This would be a great event and could yield an audience exorbitant. Wanderlei is a very appealing guy, MMA fans love him. And Sonnen knows how to promote a fight. I do not know will be exciting, but it sure is a sure bet for TV, "said Meltzer.
Defeated in a title fight against Jon Jones at UFC 159, Chael Sonnen said in press conference that could retire. However, the loudmouth suddenly changed his mind and, last Tuesday, expressed the interest to face Wanderlei Silva.
"He called me before, but the fight never made sense, because I was a candidate challenging and he just some guy on the card. Now I think that fight has a little more sense. I will not let this sport. Whenever I'm asked about retirement, I never say, but I think so: I'm not going anywhere until I Wanderlei and solve this thing once and for all. "