Fight between Julio Giant Wall (220kg) and Ricardo softly Sattelmayer (57kg), the Coyotes Fight Night, time to revive sport that had no weight divisions
The division of the fighters in different weight classes is considered one of the developments that helped make MMA a sport more acceptable to the athletic commissions and the general public. However, the more nostalgic fans of the sport always remember the times of the clashes between fighters of different sizes, very common in the early UFC tournaments and weight-absolute Pride. It was with this in mind that an event in Guarulhos, in Greater São Paulo, decided to go back and put up a fight between a super heavy weight and a weight-forward fly forward in their fight page. The Coyotes 1 Fight Night, on 10th of August, will have a fight between Julio giant wall, 2.00 m tall and 220kg, against Ricardo Sattelmayer softly, 1.68 m and 57kg.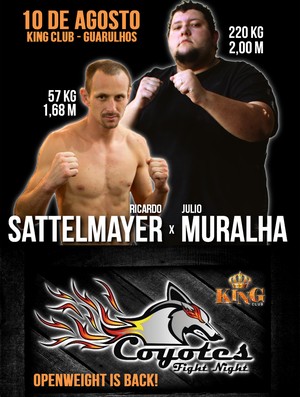 Promoter of the event, Ton Muñoz ensures that the fight will follow the unified rules of MMA, will be regulated and have all the requirements of a professional event of the sport. According to him, fights weight-absolute still happen in tournaments around the world, but are duels between giants and little people who have disappeared off the map.
- There are still disputes belts in international events in "Openweight". What time does not see this is a difference. Was to rescue the "David vs. Goliath" the days of Pride - told Muñoz.
Giant Wall Julio is a black belt in judo, a purple belt in jiu-jitsu and former rugby player. Will his MMA debut at 30 years old. Already Sattelmayer Ricardo, 32, is already a veteran of mixed martial arts, with nine fights in the sport, plus 20 fights muay thai. But the 57kg fighter ever faced an opponent with more than 70kg.
- I feel prepared, both physically and spiritually, and that to me is a challenge against myself, that no barriers, I feel like the story of David and Goliath - Sattelmayer said, according to a spokesperson for the event. He did not need to knock weight for the fight and may appear more than 57kg limit its category.
Opinion: The guys spend years seeking improvements for MMA and now recede into a pre MMA, this is a shame.