Picture will release second wrestler chosen by vote.
Produced by EA Sports, new 'UFC' arrives in 2014 for PS4 and Xone.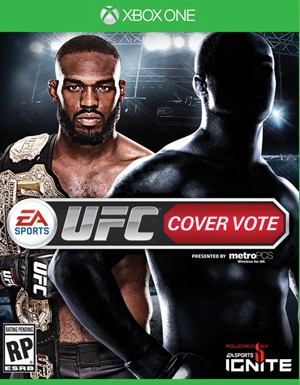 The new fighting game of "UFC" only comes in the first half of 2014 for PlayStation 4 and Xbox One, but EA Sports announced on Monday (4) the cover of the game. The American Jon Jones, champion of the light heavyweight in MMA organization (mixed martial arts), will share the spotlight with a second fighter, who will still be chosen by online voting.
After three titles of "UFC" developed by THQ and Yuka, EA Sports takes the game production organization and introduces a new graphics engine, the Ignite.
While using a pre-alpha version of the game, a demonstration appears in August by Electronic Arts showed fighters expressing stress or pain when a movement that requires strength was applied, or when some stroke acertava most sensitive regions of the body.
In the video, it was also possible to see the skin of fighters bending and deforming as Jones and Swede Alexander Gustafsson at the time of the American challenger belt, and moved the Octagon to hammer each other.
According to EA, the new game "UFC" fighters will also like Ronda Rousey and Miesha Tate. "Women are in impressing the UFC fights," says Dana White, UFC president, in a statement. "The women's division has become a big part of the UFC and fans will fight them in the game."