For anyone following the events official UFC open workout is an opportunity to see athletes exercising, even though the drive is not exactly the same as the fighters perform in their normal training. On Thursday, however, Dan Henderson surprised everyone who attended the open workout in Goiania (Brazil) and made no move. In its time to perform, he just posed for pictures and left the training area in a few minutes. Surprise for the Brazilians, the default behavior is for the veteran.
- I never do open workouts, not training beyond what is planned. I trained last night and did not want to wear today. I was thrilled when I was told that he would return to fight in Brazil. I made my first few fights here and now turn made ​​me remember and feel again what I felt those times here. I hope to have some fans in the audience on Saturday.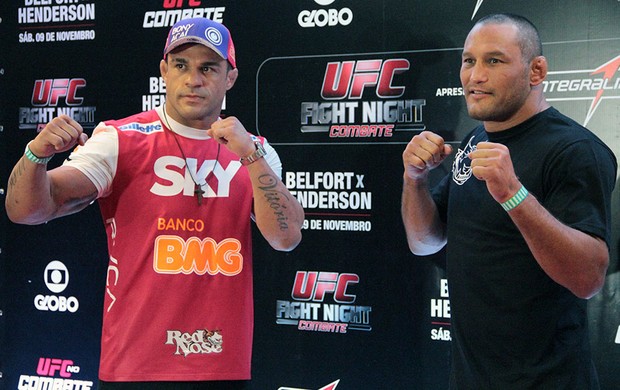 Asked about his physical condition compared to the time of the first fight against Belfort in 2006, Henderson said he felt better than seven years ago.
- I'm better. Improved with experience, my body is responding well to training, and I feel smarter as a fighter. Technically I'd say I'm better as a whole, because MMA fighter and I do not workout only one mode or another. My standup is much better than it was, my wrestling and my grappling also improved. I think I'm a better fighter today than it was in 2006. My expectations are the same as always: beat the best. This means compete and win belts. This will always be my goal. I'll have a superfight ahead is against Vitor Belfort. And she is already big enough.
I will not retire because of one or two disappointing defeats. I'll still be here awhile. I think I still will take about two years to begin to think about stopping. "
Dan Henderson, UFC fighter
For veteran Vitor Belfort also greatly improved , and added new weapons to your arsenal . After praising his rival , Hendo assured you do not want to let the fight be decided by the judges .
- Vitor is very dangerous and can really hurt you if you let it. He has improved a lot in striking , and his footwork is also much better than it was . He is more patient , and as we saw in his last two fights , has powerful kicks now . Vitor is a guy I like to watch fight, and he has been fighting very well in recent times . But my style is different from his last two opponents ( and Luke Rockhold Michael Bisping ) and I think he will have problems to face me . Our last fight was good , and I remember dominate it from start to finish . I won on points, and that's something I do not want it to happen now . I do not want to leave the decision to the judges. Today, what can fans expect to see is two guys who seek knockout all the time is facing. Our fights are never boring , and on Saturday I think it will be an interesting fight . It's frustrating when you know you did enough to win and not win . But on the other hand, it is important to know that you could have done something different than it did , or it could have been struggling a bit . But more frustrating is to imagine that if their fight had been judged by different judges , you probably would have won .
If Hendo will lose that remains in the UFC? Or go to Bellator challenge Rampage??????????????
kkkkkkkkkkkkkkkkkkkkkkkkkkkkkkkkkkkkkkkkkkkkkkkkkkkkkkkkkkkkkkkkkkkkkkkkkkkkkkkkkkkkkkkkkkkkkkkkkkkkkkkkkkkkkkkkkkkkkkkkkkkkkkkkkkkkkkkkkkkkkkkkkkkkkkkkkkkkkkkkkkkkkkkkkkkkkkk......
UFC Fight Night 32: x Belfort Henderson
November 9, in Goiania (Brazil)
MAIN CARD
Vitor Belfort x Dan Henderson
Cezar Mutante x Daniel Sarafian
Rafael Feijao x Igor Pokrajac
Paulo Thiago x Brandon Thatch
Santiago Ponzinibbio x Ryan LaFlare
Rony Jason x Ron Jeremy Stephens
PRELIMINARY CARD
Godofredo Pepey x Sam Sicilia
Thiago Bodão x Omari Akhmedov
Thiago Tavares x Justin Salas
Adriano Martins x Daron Cruickshank
José Maria No Chance x Dustin Ortiz