President said that possible title fight between Anderson Silva and Vitor Belfort can be held in a soccer stadium in Brazil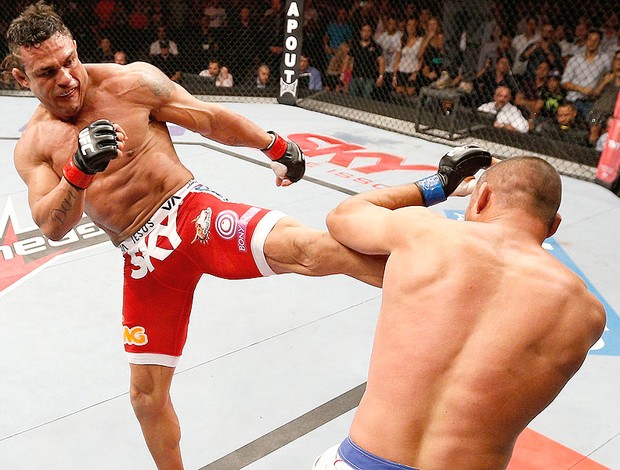 Vitor Belfort was not aware of veteran Dan Henderson, knocked out the U.S. in the main event of UFC Fight Night 32 and avenged their defeat to rivals in 2006. With the triumph, the Brazilian won the right to compete in the middleweight belt against the winner of the fight between Chris Weidman and Anderson, who meet in December. And, in case of triumph of Anderson, the duel between the Brazilians may be the biggest in the history of Ultimate.
The president of the franchise, Dana White revealed after the event in Goiânia, in the early hours of Sunday (10) that a possible fight between Anderson Silva and Vitor Belfort could be held in Brazil, and for the first time ever in a football stadium .
"The middleweight division is very strong, there are many possibilities. Imagine if we Anderson vs. Vitor here in a football stadium? Weidman and Anderson will clash at UFC 168 and will be our biggest event of all time. The winner will face Vitor Belfort unless something crazy happens and someone get hurt, "said White, who spared no praise for Belfort due to its performance.
"Great night for Vitor. He did something no one had done before in 39 fights. Dan Henderson knocked out. He is a better fighter than he was as a young man, is more composed than when young, better mentally. I am enraptured by his performance today. We have to see how it goes Weidman vs. Anderson, but he is the next ..., "White added.
- Check the details of the struggles of the Main Card
MAIN CARD:
Vitor Belfort beat Dan Henderson by KO round 1 of the 1m17s
Cezar Mutante Daniel Sarafian won by split decision (28-29, 30-27 and 30-28)
Rafael Feijao beat Igor Pokrajac by TKO (abandonment) at 1m18s of round 1
Brandon Thatch Paulo Thiago won by TKO (abandonment) at 2m10s of round 1
Ryan LaFlare Ponzinibbio Santiago won by unanimous decision (30-27, 30-27 and 30-27)
Jason Ron Jeremy Stephens won by knockout in round 1 to 40s
PRELIMINARY CARD:
Sam Sicilia Godofredo Pepey won by TKO in the first round of 1m42s
Omari Akhmedov Bodão Thiago won by knockout at 3m31s of round 1
Thiago Tavares Justin Salas won by submission (rear naked choke) at 2m38s of round 1
Adriano Martins Daron Cruickshank won by submission (kimura) at 2m49s of round 2
Dustin Jose Maria Ortiz won by TKO No Chance to 3m19s of round 3