With the help of legendary boxing coach, Freddie Roach, Maurício Shogun intensifies preparing to face Chael Sonnen on August 17 in Boston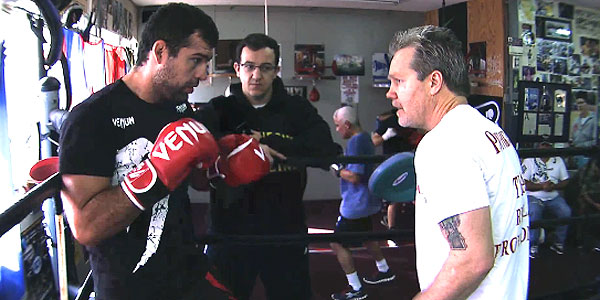 In the final stages of preparation for the fight against Chael Sonnen, Mauricio Shogun intensifies workouts with renowned boxing coach Freddie Roach, a member of the Hall of Fame mode. Five months after the start of the activities with the legendary coach, Brazilian highlights the evolution and ensures that the force of his strokes increased.
"He really saw an improvement in my punches because of training. So now, I hit like Superman," joked the former heavyweight champion means, facing Sonnen in the main event of UFC Fight Night 26 in Boston.
Coach boxers like Manny Paquiao, Oscar De La Hoya and Amir Khan, Freddie Roach is also master of the welterweight champion of the UFC, Georges St. Pierre. Rough highlights the talent of Shogun and praises the features of the new pupil.
"When we started, he did not really know how to pivot and put all his weight behind the punches. He's a big puncher, a great striker, and before long, he has come a long way. When he arrived here by first, its mechanism was a little off. When I tell you something, he understands what I mean. it did not take long for him to fetch. talented guys take things quickly. was really fun, "he said.
Mauricio 'Shogun' Rua got impressive knockouts throughout his career in the UFC. The strength of the handles Curitiba was able to take down MMMA greats such as Chuck Liddell, Lyoto Machida and Forrest Griffin, and Brandon Vera in his last victory at Ultimate.
On Thursday, the UFC released video of Shogun arduous training with Freddie Roach. The images show the good relationship between student and teacher. Excited about the sessions, the Brazilian says he feels a man completely new. Check out the video.