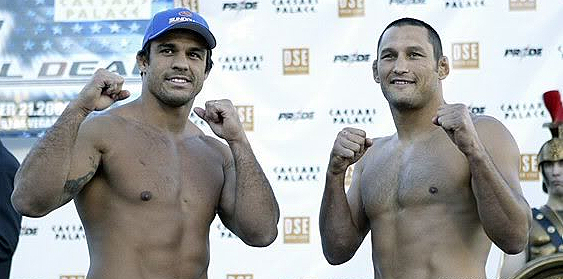 The world's UFC spins, turns around, and will end up in the same place. Days after Dana White say that would finally put Vitor Belfort to fight outside of Brazil, the official program of the Ultimate U.S. TV announced that the franchise is preparing to fight the main event in Goiania to Rio's rematch against Dan Henderson.
Point of order: when such information is given in this program, UFC Tonight is because it is very close to being official. At this point, difficult Vitor Belfort x Dan Henderson not be the main event in the capital of Goiás on Nov. 9.
The Brazilian has been asking for this fight - like others - vehemently while waiting for a shot at the middleweight belt. Vitor said want to do a fight in another weight while waiting for the result of Chris Weidman vs. Anderson Silva, on December 28. So this fight against veteran American should happen in the heavyweight or a combined weight.
Pantcho Ricardo Feliciano, Brazilian jiu-jitsu technician Henderson, already thinks the Brazilian fans that Dan will find, though the fight is not yet signed. "Hendo has a lot of fans in Brazil and to face Vitor, we just have to see what weight would be convenient. I know he has a great desire to fight in Brazil. "
Besides being against a big name in MMA, this fight is a former reckoning for Belfort. Besides having been defeated on points by U.S. in October 2006, in an edition of Japanese Pride event in Las Vegas, was also the battle in which he fell in to a high doping level of an anabolic testosterone.